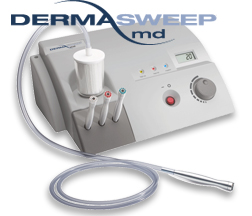 Often our patients wonder where to go from here, "Now that the hair is gone, how can I better take care of my skin?" When we find little gems that aren't readily available to the general public, we like to bring them in. We searched for years, keeping your health in mind, and are pleased to carry some of the most unique, safe, and healthy products. Click the Product link on the right to view more information about these excellent products. (Pictured at left: our new DermaSweep Microdermabrasion system.)
We have also added another service, Microdermabrasion. The DermaSweep system is uniquely designed to work in a patented combination for the perfect microdermabrasion experience. Gentle vacuum action lifts the surface of the skin as the DermaSweep wand "sweeps away" dead skin cells with in a precise and effective manner.
The skin is left smoother as the vacuum action of the wand stimulates blood flow, cleans the pores and removes skin debris into a HEPA filter. The increased blood flow to the skin's surface encourages collagen formation thus firming and toning the epidermis as well.
Gone are the days of sandblasting! Our patent pending bristle tips fully eliminate the mess and discomfort associated with traditional crystal systems. Our innovative, efficient use of vacuum pressure and bristles are then customized for each treatment depending on skin type, desired level of exfoliation and results. DermaSweep results in a clean, consistently effective treatment and you see a noticeable skin improvement with fewer treatments and improved results even with the first treatment.